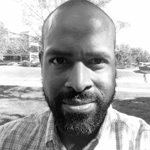 IoT, The Cloud, Quantum Computing, Artificial Intelligence, Atomically Precise Manufacturing, crowd funding, crowd sourcing, accelerating change, The Singularity.
These are just some of the technologies and interests that have held the attention of Kevin King over the years and that he has brought to the table as part of his training and management style.
In his previous Director level position, Kevin brought a mix of personable yet intentional management style, along with an eye to keep World Service Corporation in Tulsa Oklahoma relevant through upgrades of their co-located servers, along with projects to streamline DevOps and deliver that organization's largest product improvement to date.
That large product improvement was a re-imagining of the entire sites worldwide and saw Kevin spending time in Mumbai and Chennai working with a consulting frim there to write and implement the back-end controls and middleware for the complete upgrade of the primary service delivered to their customers.
In management at Baxter Healthcare, Kevin oversaw the expansion of Shared Services location in Albuquerque, NM. He systematized operations for multiple departments including IT, Telecommunications, Security, Facilities, and physical and digital processing and storage.
For Baxter, Kevin and his employees, working along with multiple contractors and key players from corporate headquarters were able to literally triple the size of the local operations. He onboarded scores of new employees, expanded and improved the facilities, brought per unit costs down in key areas, while running with lean staffing levels and an organizationally flat management structure.
Over the years working both on a contractual basis and as an employee for New Horizons Learning Centers, Kevin has become a world-class CCSI and MCT instructor teaching classes to thousands of students from Microsoft MCSE Networking and MCSE Private Cloud to Cisco's CCNP and CCNA classes. Kevin has several times ranking in the top 10 New Horizons instructors worldwide and has won Cisco's coveted "Routing & Switching | Instructor Excellence Award" over many consecutive years.
It is through many years of constant innovation in creative and impactful instruction delivery, as well as management at New Horizons, that Kevin had honed a knowledge of the training business. He also has learned to listen to the students and potential students in order to deliver a product that students want.
Kevin maintains many technical certifications, and enjoys playing guitar, bass, and singing. He loves to hit the gym and pump some iron or get out for some backpacking. He is also, as you might suspect if you have attended any of his classes, an avid Science Fiction reader, and someone who enjoys hacking nutrition and hacking learning.